We are primarily an independant practice, also offering Denplan insurance. Adults have the option of being seen on a pay-as-you-go basis or joining Denplan.
What is DENPLAN ?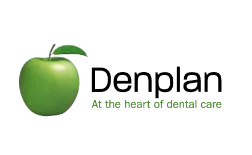 Denplan is the UK's leading dental healthcare company. With Denplan care you pay a fixed monthly fee, which entitles you to all your necessary dental treatment (you will never need to bring your wallet!). The only treatments that are not covered by Denplan are Cosmetic treatment and your laboratory fees (Crowns, Bridges, Dentures).
The majority of patients at our practice have choosen to register as Denplan patients. Monthly Payments range from £17 to £49, although the majority are in the £24 to £29 range. You also get some additional benefits such as worldwide accident and emergency insurance, a 24 hour telephone helpline for immediate assistance and referral to a Denplan dentist anywhere in the country in case of any emergency.
Fee Guide 2022
Description
Denplan Care
Private(£)
Consultation (new patients)
X-rays Included
N/A
£60
Routine Examination
X-rays Included
Included
£39

Scale and polish

-Hygienist (standard)
-Hygienist (extensive)

Included
£46
£70

Fillings

-Amalgam from
-Composite from

Included
Included
From £50
From £60

Root fillings

-Incisor
-Molar




Included
Included
£240
£390
Tooth Extractions
Included
From £60
Crowns
Lab fee only
From £420
Lab fee only
From £350
Lab fee only
From £350

Dentures

-full Upper / Lower
-Partial acrylic
-partial metal

Lab fee only
Lab fee only
Lab fee only
From £600
From £350
From £650
Call out fee
Included
£165
World Wide Accident and Emergency Insurance
Included
N/A
Denplan Care Monthly Fee Rates 2022
Category A
Category B
Category C
Category D
Category E
Monthly
£17.98
Monthly
£28.09
Monthly
£33.93
Monthly
£43.26
Monthly
from £49.44